Denver Halloween Costume Ball
Sherman St. Event Center, Denver – http://www.denverhalloweenball.com/
Come one, come all, to the scariest Denver Halloween event! Located in the Grand Ballroom of the historic Sherman St. Event Center in Denver, this exclusive OPEN BAR costume party will without a doubt be a night to remember. Happening Friday, October 31st, beginning at 9 pm, enjoy all you can drink specials, a $1,000 "Best of the Ball" Halloween Costume Contest, a Michael Jackson "Thriller" flash mob,  and LIVE Halloween entertainment and DJs. Buy your tickets now before they sell out and remember to dress up to win that contest!
Zombie Crawl
Skyline Park, Denver – http://eyeheartbrains.com/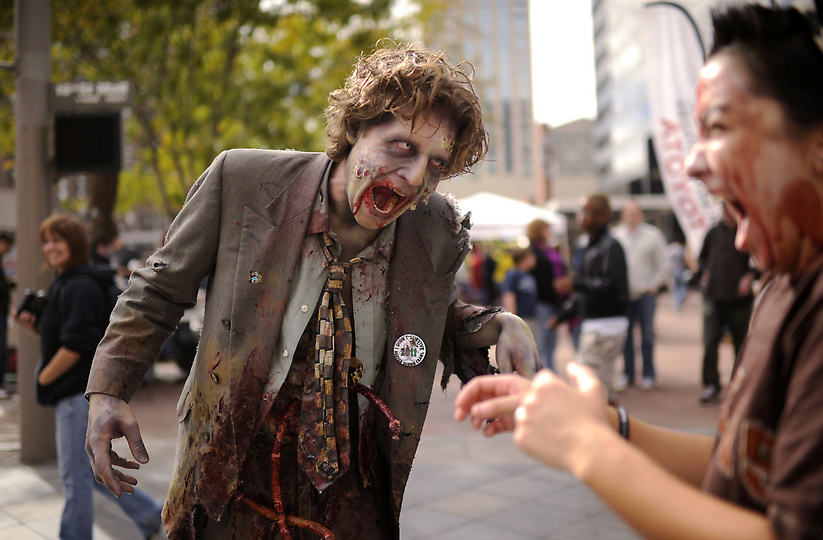 The Zombie Crawl is quickly becoming one of Denver's most popular fall events. October 21st will mark the 9th annual Zombie Crawl here in Denver. Zombies are asked to gather at Skyline Park in Downtown Denver shortly before 4 pm to begin the count for Denver's attempt to set the World Record for most zombies in the crawl. Witness the slow-moving sea of zombies walk through the 16th street mall and afterwards, enjoy taking part in the costume contest, building your zombie defense skills, and kick back to the sounds of LIVE music by The Widow's Bane, and a movie in the park presented by the Denver Film Society.
Heritage Square
Golden, Colorado – http://www.heritagesquare.info/events.htm

The legendary Spider Mansion is open now through November 1st. Check out Alice's Horrorland, going deeper into the rabbit hole than ever before! Take a trip down to Spider Mansion and see the most respected and most feared haunted house in Colorado.
Bootown 3D Maze Craze is Colorado's first ever bi-level 3D maze, full of colorful enchantment and "spooktacular" fun – but not scary! Bring the whole family for a day of festive fun and entertainment with a haunted train ride and family friendly Halloween celebrations! Join us for Trick of Treat Street on October 25th!
Haunted Corn Maze
Denver, CO – http://www.hauntedfieldofscreams.com/
Come get lost among your worst nightmares in the largest haunted attraction in Colorado. With more than 35 acres of haunted corn field and 3 different haunts to experience, Haunted Field of Screams will swallow you up in its 16 foot tall corn stalks, guiding you only by moon light. Be very quiet as you try to find your way out, a new nightmare might just be waiting for you around the corner!
Dracula
Ellie Caulkins Opera House, Denver –
Back by popular demand, the Colorado Ballet presents Dracula for an exclusive weekend of performance in Denver. Come experience the spine-tingling horror by Bram Stoker, packed with seductive vampires, frightening mental patients, and the king of the undead himself, Dracula. Hurry in as this performance will only be open to the public Friday October 31st through Sunday November 1st.