Everybody can make cupcakes but not everybody can make good cupcakes. And for the discerning taste buds of the people of the 303, good does not even cut it. You have to be great to be really appreciated. No wonder why the competition for the best cupcakes in Denver is getting fiercer each year.
And to add fire to the ensuing debate on who makes the best little cups of awesome in the 303, here's is our own list:

If you want your cupcakes with a little kick then Tipsy Cupcakes is just right your alley. Get decadent versions of your favorite cakes infused with premium alcohols like Kahlua and Bacardi. Some of the favorites include lemon vodka, red wine red velvet, and chocolate whiskey. Your kids can order from the non-alcohol menu so they can join in on the fun. Best part is that they come in these cute little jars that makes it easier to eat.
8286 Northfield Blvd. #1535 Denver, CO 720.523.3335

If you are in Denver and never have tasted Gigi's, you might either be living under a rock or not really in Denver at all. After all, there are several Gigi's stalls and kiosks around the 303. What make them so successful, of course, is the cupcakes itself. They have these big cupcakes with generous frosting. But it's not quantity over quality. The cupcakes are moist and the frostings are to die for. They said do one thing, do it well. Gigi's do cupcakes and they do it great.
550 Grant Street, Unit H, Denver, CO 303.777.0698

Try a different variant each day from Smallcakes and you will come out satisfied each time. The cakes itself are very moist and they are bigger than your usual cupcakes. They have 13 signature cupcakes including the red velvet, pink chocolate, hot fudge sundae, and peanut butter cup. Aside from those 13, however, there are still a hundred more choices like maple brown, tiramisu, and seasonal flavors like different apple pie varieties. It is difficult to pick a favorite  from all the cupcakes. You can literally go there with a blindfold, choose randomly but still know that you are in for a treat.

Watch out for the blue truck!! This food truck serves not only some of the most delicious cupcakes but the cutest as well. No wonder it's a favorite during birthdays, weddings, and even bridal and baby showers. They have about 8-11 flavors readily available but if you want anything special or personalized, you can order in advance by a couple of days. They also offer gluten free cupcakes.
10655 S Parker Rd. Parker, CO 720.561.1511

Aptly called the Church of Cupcakes, eating one of their treats is close to a religious experience. Not saying that you should worship the cupcakes but thanking the lord almighty for these moist delicacies is an acceptable response. After all, not only are the cupcakes so delicious the shop is so pretty as well. And for guys, there is a Foosball table to add some manliness to your cupcake eating day.
3462 N Larimer St. Denver, CO 720.524.7770
There are still more great cupcake stores around Denver? Which one do you think is the best?
Netflix again? Yep, your default "let's just stay at home and watch Netflix" is getting old. Soon you might just be watching Netflix by yourself at the rate that you are going. You have got to mix it up some and take your lady (or man) out. Try something different to keep it exciting.
You don't even have to spend big bucks to take your love to a night out. If you are in Denver, you and your partner can try these places:
Catch a light-hearted play at the Dangerous Theatre. At just $20 per ticket, you and your partner can watch Paging Dr. Chutzpah, a comedy that details the story of a psychiatrist who always ends up having sex with his patients. Or try Radio Voodoo, a throwback radio play where anything can happen. Whatever you watch in the theatre, it will sure be interesting and different from what you usually see in the movies or TV. The best part, you can eat and be loud (reasonably) while watching. You can even BYOB.
2620 W. 2nd Ave #1 Denver, CO 720.233.4703
Take your partner to Lannie's Clocktower Cabaret for a night of dazzling and spectacular performances. You might have noticed that I used 2 superlatives to describe what's going on inside the Clocktower but words are simply not enough. You'd think that ladies will not appreciate Burlesque but in its history, women have the most fun watching these spectacles. Aside from Burlesque, they also feature blues, comedy shows, and swing bands. The live shows always make a night at Lannie's, Legen-wait for it-dary.
16th Street Mall at Arapahoe Street, Downtown Denver CO 303.293.0075
Take your partner for a few drinks at the Infinite Monkey Theorem. Instead of bar hopping, just chill with your date and put your feet up while enjoying music and wine served straight from the barrel. In fact, you don't even have to sip the wines through a glass. You can have it from a bottle and even a can. You can even try the slushy machine if you're up to it. The wines are no Merlot, but they are great enough for relaxing with your date. While there, you and your partner can also enjoy the delicacies from some of Denver's best food trucks.
3200 Larimer Street Denver, CO 303.736.8376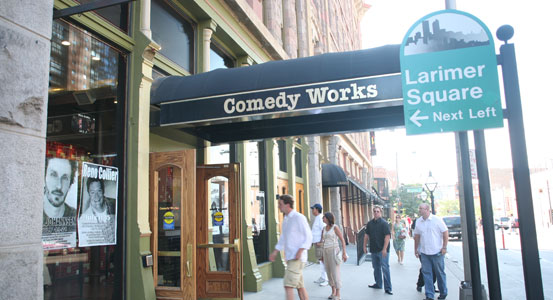 There is a bit of a line coming in and the place is kind of small so it sometimes feels cramped but once the show starts, nothing else matter. Get yourself ready for some belly-aching laughter for the whole night. Aside from top-notch performers, however, their staff and crew should also be credited. Even with so many people, they still keep the whole friendly vibe going. They would even chat with you while you wait for the performances to start. The best part is so subtle that you probably won't notice it, but the servers always manage to keep your drinks and food flowing without being a distraction. This way, you and your partner can just focus on just enjoying the show.
1226 15th St. Denver, CO 303.595.3637

Go old school video gaming at the 1up-LoDo arcade bar. There are so many things that you can do with your date that it's difficult to list them all. But we'll try. Try old video games like Street Fighter and Mortal Kombat, 4-player PacMan with another couple, Skeeball with your partner, play giant Jenga, and play as many pinball machines as you can. The place also sells 16oz PBR & Budweiser Tall Boys during happy hour at just $2. So you can play giant Jenga while drinking beer. Best date EVER!!
Suite 201, 1925 Blake Street, Denver, CO 303.779.6444
Do you have other unique date ideas to share? Please share in the comments section.